Gemini Advisory
A robust and reliable business website for a company providing cybersecurity services
DevOps services
QA
SEO
UI/UX design
Web Development
Project description
We developed this appealing, user-friendly business website for professionals in the area of cybersecurity and card fraud protection. The solution consists of the main website presenting the company and its vision, a section promoting its main products and services, and a Resources section with a blog and library. It provides users with all necessary information about the company's operations and outlines its robust features. In addition, potential clients (a bank or a card issuer) can calculate how much they would save by working with Gemini Advisory.
| | |
| --- | --- |
| Industry: | Cybersecurity |
| Platforms: | Web |
| Role: | Software developer, IT consultant |
| Tech Stack: | PHP, WordPress, CMS, JQuerry, MariaDB, MySQL |

Problem introduction
Our client is one of the best providers of cybersecurity services. They have operated in bank card frauds and cybersecurity vulnerabilities for many years. When they reached us, they faced some challenges in promoting their facilities online and attracting new potential customers. Their main demand was to rebuild a business website so that it worked to improve and boost user experience. They also needed thorough web analysis, SEO enhancement, and a complete redesign.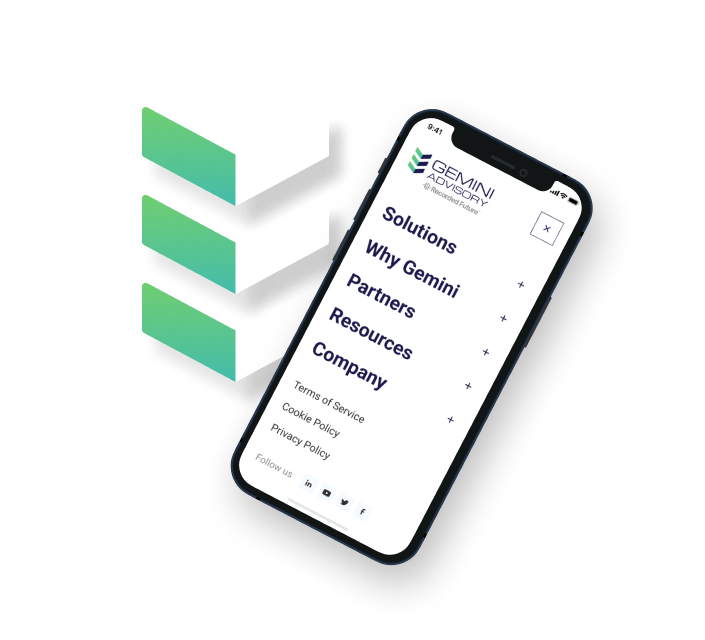 Tech Challenges
Our team was requested to provide the client with a functional, reliable, SEO-optimized, and well-designed business website. To meet this goal, we had to deal with some challenges. Firstly, we had to develop strategies for dealing with low leads and poor content and UI. Our specialists conducted an in-depth analysis of the website. Based on the data retrieved, we reconsidered and changed the marketing strategy, updated the list of keywords, and established the SEO optimization process. Our UI/UX specialist upgraded both company's branding and general website design to reflect their expertise and strengths. In addition, we decided to expand the functionality through third-party integrations of emailing and analytical tools. Secondly, our team had to work without suspending or terminating the website's operation. Due to a significant number of current visitors, our client did not want to lose them while rebuilding and asked us to make changes to the working website. Thus, by acting creditably and cautiously, we reached great results without any outages and downtime during updates. Finally, we had to introduce the ROI calculator on the website. This module is designed to encourage potential customers to start cooperation since it shows benefits backed by real numbers. Not breaking the general architecture and logic of the website, we developed an independent UI based on provided endpoints and a database. It allows users to view a data snapshot of the last 30 days by simply inserting the organization's name.
Core Functionality:
Possibility of estimating a company's ROI
Hubspot and Zendesk integration
Implementation of Google Analytics and Google Tag Manager
Visibility into the cybercriminal economy to evaluate exposure and risk
Chance to find additional information on the company's research activity
Built-in contact form

Solution
As a result, our team developed an appealing functional company website that lets our customer reach more clients and get their business vast exposure. Having conducted a strategic analysis, we delivered strategies and solutions that successfully met all demands.
Our team ensured accessible information architecture to enable users to find the content easily and quickly. General information and a contact form, solutions, reasons to choose the company, its partners, ROI calculator, and additional materials are finely housed with clear pathways for visitors. We intentionally added and displayed the Resource section containing blog and library materials on the landing page. Thus, providing a more profound content experience.
An intuitive and responsive design facilitates the exploring process of the site and makes it more engaging. We provided our client with a solution particularly adapted to their business.
Result
A highly reliable, convenient, and multifunctional website
Information Architecture improving user experience
Integrated emailing system
Automated calculation of return rate
Enhanced work with analytical data
UI/UX design that fits both smartphone and tablet devices
Cross-platform desktop solution for various operating systems