L3D
A custom business website for the game art studio
DevOps services
QA
UI/UX design
Web Development
Project description
Our team developed an advanced website with a stunning design for a creative 3D art studio. It is customized to their particular demands and professional focus. The main emphasis of the project is on the thematic visualization of the company's works, on those features that distinguish the customer from their competitors. In addition to captivating graphics, the site provides basic information about the company, a contact form for communication, a blog section, and a portfolio. In addition, it is possible to see all the company's representative offices worldwide on the built-in map.
| | |
| --- | --- |
| Industry: | Entertainment |
| Platforms: | Web |
| Role: | Software developer, IT consultant |
| Tech Stack: | WordPress, JQuery, PHP |
Problem introduction
At the time when a client contacted us, they already had their business website. However, its design was totally outdated and obsolete. It lacked appropriate and progressive technologies. The customer also wanted us to improve mobile responsiveness and provide third-party integrations.
Main goals:
Improve overall site architecture and navigation
Provide a functional solution backed by WordPress CMS
Ensure a mobile-friendly interface
Align visual elements with company's branding
Include Google Maps integration
Create a more visual product story with playback of Instagram works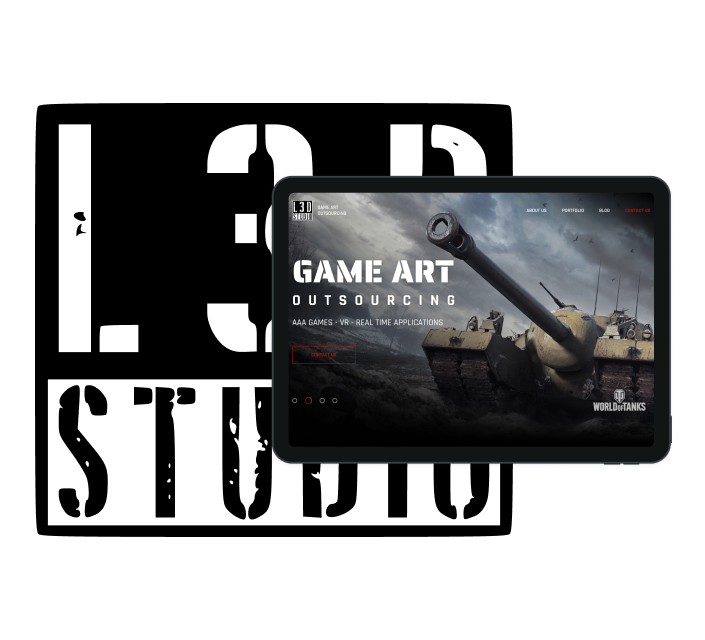 Tech Challenges
In technical terms, our team did not have any challenges. The developing process was smooth and steady. All our specialists are highly qualified and have vast experience creating similar products. The only thing that we can outline is a slightly lengthy design approval procedure. However, we do not focus on this issue too much because any creative process, especially related to the development of a design reflecting all customer's features, is not easy and quite time-consuming. Besides, having considered all our proposals, the client gave their firm consent to their implementation.
Core Functionality:
Google Maps Integration
Contact form
Built-in playback of works from Instagram
Easy and clear navigation system

Solution
Our team created an advanced business website aimed at increasing user engagement and experience. The new L3D site reflects its professional skills and passion for creating hard surface 3D models. Visitors can view the scope of their works and study their particular features. Due to the straightforward navigation system, this process is painless and does not require much effort. It also includes a map integration that helps interested people find the company's offices nearby. We built-in Instagram slides with examples of the company's works to improve "customer-contractor" relations and boost the interest of potential clients. The website looks good on any device.
Result
A user-friendly customized business website
An intuitive and responsive design
Improved customer's user experience
Graphical display of company's addresses on the map
Modest and restrained typography reflecting professional brand
An extensive portfolio functionality