Yashkina
An Ecommerce solution for an online gun shop
DevOps services
QA
UI/UX design
Web Development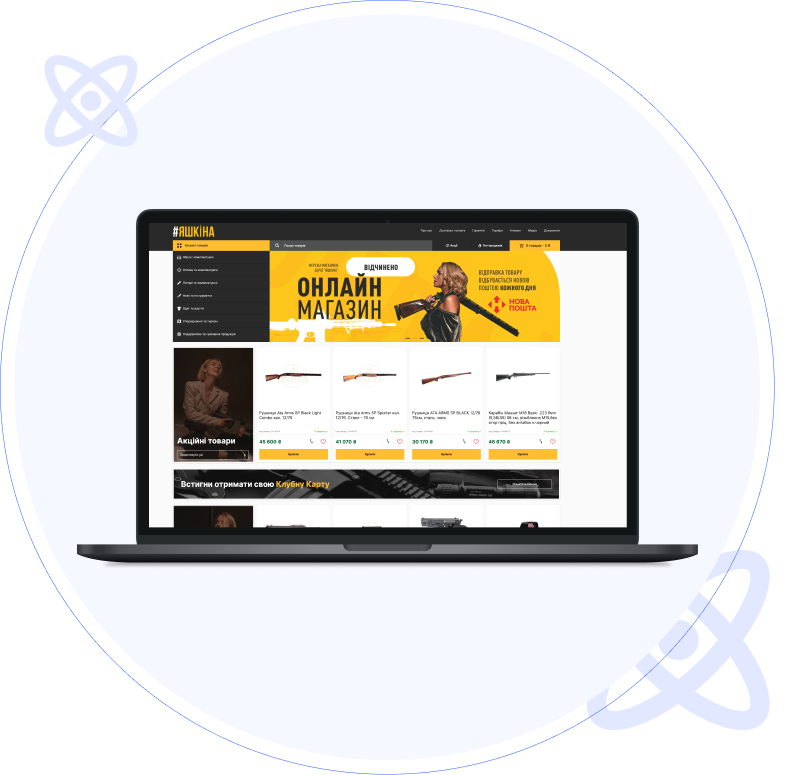 Project description
Yashkina is an advanced and convenient eCommerce platform created for selling guns, firearms, and related products legally. It comprises two parts – eCommerce website and an Admin Panel. The first allows users to choose among a vast number of goods, read their descriptions, save to favorites or comparison, order selected items, and pay for them either online or upon receipt. The second is created for admins to organize permitted and prohibited objects clearly, mark and split them in the cart automatically, and inform users about the legal rules and others.
| | |
| --- | --- |
| Industry: | Ecommerce |
| Platforms: | Web |
| Role: | Software Developer, IT Consultant |
| Tech Stack: | OpenCart CRM, PHP, JS, JQuery, HTML, CSS, ocStore |

Problem introduction
To optimize its online operations, Yashkina required a more sensible and solid Ecommerce solution that would distinguish them from other competitors in the market. The platform had to be robust and customizable to handle frontend and backend integration processes. Also, it should provide a user-friendly customer shopping experience, rapid adaptability to any changes, smooth integration of third-party services, and a stable and uninterrupted platform running.
Main goals
Run Ecommerce website with convenient UI
Make the platform customizable and flexible
Raise customer loyalty with a personalized shopping experience
Implement an advanced filtration system
Integrate a new payment gateway and delivery service
Provide third-party integrations
Present Admin interface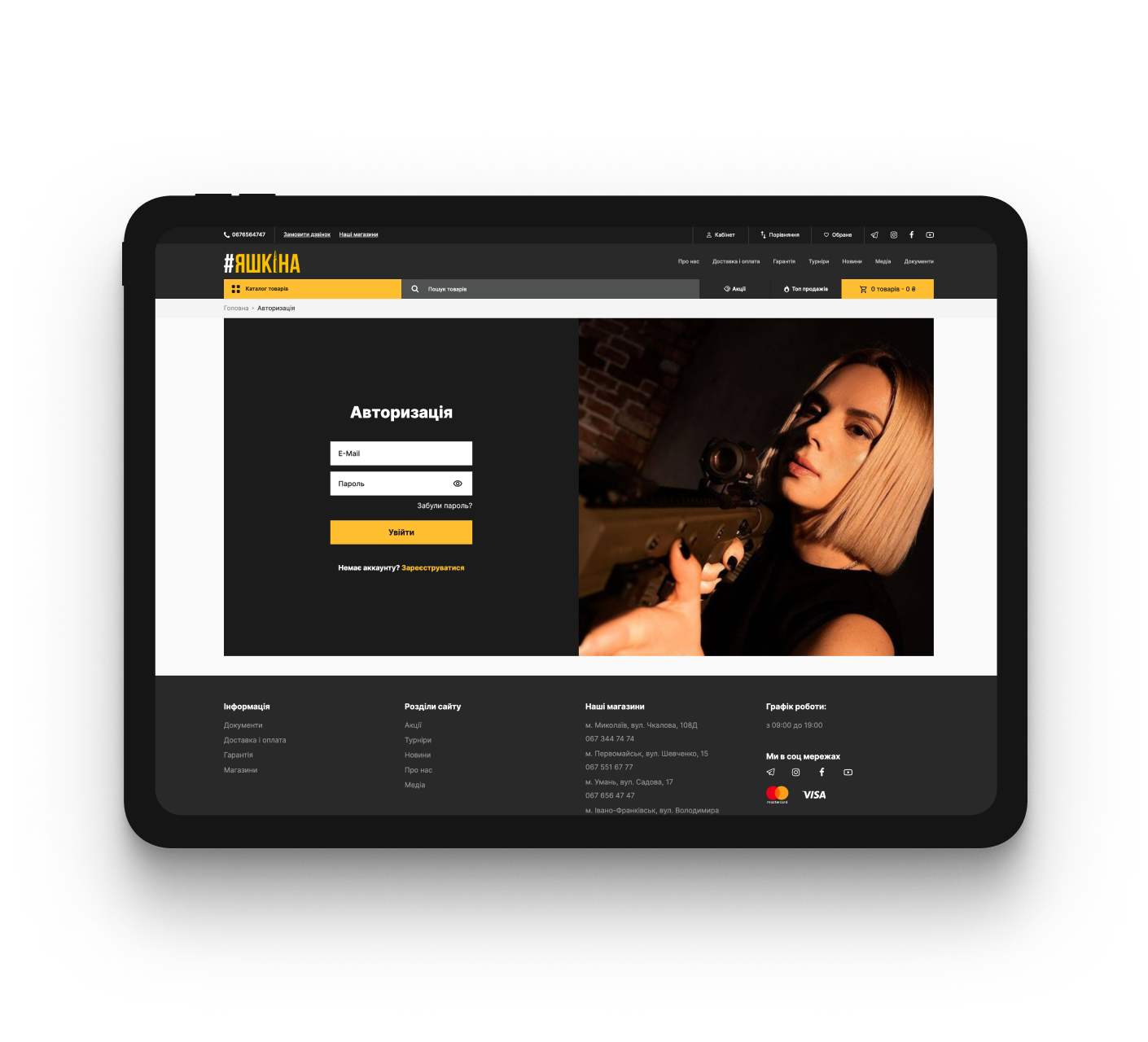 Tech Challenges
The biggest challenge our team faced with this project was to make the platform meet all payment demands due to the specific rules of arms trading. As the range of goods was diverse and varied, from different types of weapons to camping and hunting equipment, souvenirs, and decor items, we had to think about a compromise solution. On the one hand, online payments and weapons delivery were almost prohibited in the region. On the other hand, related products did not have such restrictions and could be freely sold online and delivered to customers. So, to address this challenge, we had to include additional product attributes managed through the inventory management CRM and Admin panel. The team also had to re-work, configure, and debug two-way synchronization with an inventory management system to record, update, and store all goods, their properties, prices, availability, related media files, filters, and categories with the help of a third-party CRM system.
Core Functionality
Advanced filtration system configured from the admin panel
Product comparison, favorites, discounts, and hot propositions features
Admin panel to handle permitted and prohibited items on the site, exclude online purchase and delivery options for specific products
Integrated emailing functionalities
Nova Poshta and LiqPay Integration
Solution
We created a fully functional online shop to sell weapons and other related goods using all features of OpenCart CRM. Commodities can be easily added, grouped, and checked by the administrators. Due to our optimization strategies and tactics, we improved  page speed indexes and ensured optimal UX and SEO ranking. We built an algorithm for working with various products and separating them in the cart.
Our team introduced the Advanced filters designed to help users to find a necessary item quicker by applying filters for weapon types, material, the caliber of the arms, number of bullets, scope, barrel length, and others. It greatly simplifies the search process. Also, we changed the outdated User Interface and made it appealing and stylish. Responsive web design allows displaying custom pages and menus on any device.
The numerous third-party integrations, such as 1C, Nova Poshta, LiqPay, and Google Business Profile, enhanced the site's performance and made operations smooth and reliable. We provided 1C integration for efficient product and price management, tracking availability, and the quantity of remaining inventory. To guarantee prompt and legal delivery, we used Nova Poshta integration.
Result
The user-friendly and easy-to-navigate website
Responsive web design
Integrated email, payment, and other functionalities
Optimized search and filtration systems
Advanced admin panel
Rich color scheme and typography
Media content loading optimizations