Fantasty
A restaurant service tool for managing orders and tables, adding guests, and simplifying the servicing process
DevOps services
Mobile Development
QA
UI/UX design
Web Development
Project description
The application is a restaurant management solution that helps business owners to supervise their operations easily, promptly, and accurately. It enables restaurants to optimize their "client-waiter" and "waiter-kitchen" processes, control orders, bills, and quickly respond to customer demands. The application's primary functions are process automation, work synchronization, and delivery of convenient table management and bill-paying systems. The app presents a customized Menu section, helping waiters add courses to orders and know all ingredients of serving dishes. If a client wants to enhance a company's branding, it is possible to request customization of the app. The product has an admin panel, providing administrators with the information about free and occupied tables and allowing them to monitor the dynamics for an hour, a day, or a set period. It also displays data on bills and orders and includes a section for users to create a detailed list of menu items.
| | |
| --- | --- |
| Industry: | Foodtech |
| Platforms: | Mobile, Web |
| Role: | Software Developer, IT Consultant |
| Tech Stack: | Kotlin, Swift, node.js, Vue.js |

Problem introduction
Our client provides restaurant services and needs to make the process of taking orders and interaction between clients, waiters, kitchen staff, and bartenders smooth and prompt. The old-fashioned way of taking written orders does not meet the modern, fast-growing market's demands. It also can damage the company's reputation. Thus, instead of trying to find a free table, writing all details, and constantly checking the order's status, the app presents necessary information in a few taps.
Main goals
Create an efficient restaurant management tool in a short time
Cover both iOS and Android platforms with one cross-platform app
Deliver intuitive and functional admin panel
Ensure an automatic bill split-up feature
Provide customization
Introduce a flexible filter system for separating bartenders and cooks
Simplify staff interaction and accelerate serviсe delivery process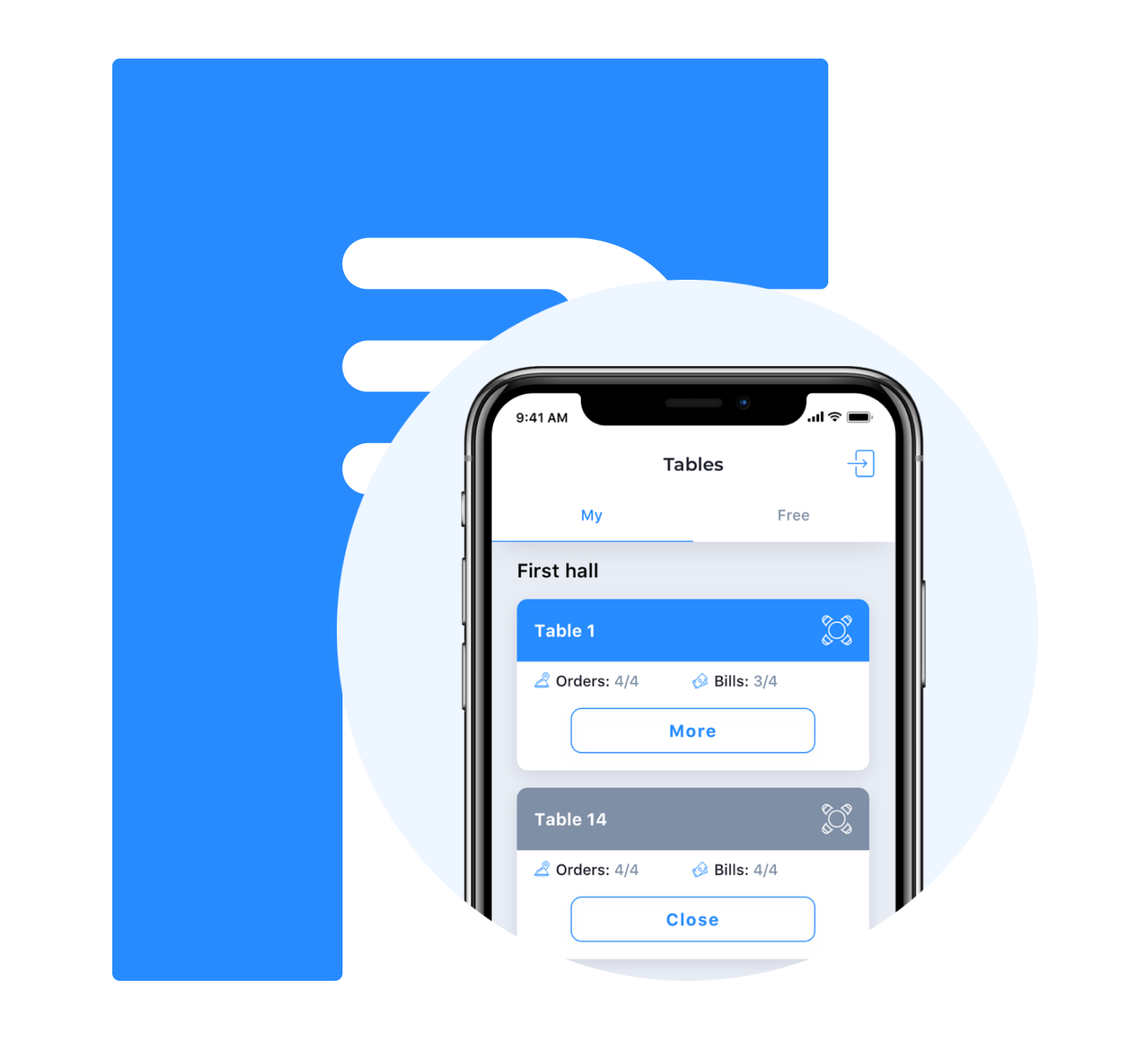 Tech Challenges
We had already had experience creating various mobile applications by the time we started our project on the Fantasty app. It significantly facilitated the work for our team presented by high-skilled professionals. The client needed a comprehensive solution for managing services, workflow, and submitting bills. Another demand was a convenient admin panel for administrators to monitor the restaurant's dynamics and control all the processes, as well as the possibility to customize the app. We implemented different methods and achieved the perfect result, fully satisfying our customer.
Core Functionality
The convenient process of selecting and managing tables
Easy procedure of adding guests
Prompt switching between five order statuses: ready, in progress, new, closed, and declined
Filters to separate operations of cooks and bartenders
An automatic bill split-up feature enabling guests to pay separately

Solution
Our team developed a reliable restaurant service management app addressing operations during the working process. It offers its users such options as selecting and managing tables, displaying order status, splitting up the bill, and filtering to separate cooks and bartenders activities.
The admin panel allows administrators to see if the tables are free or occupied and monitor the orders dynamic within different periods. It comprises a section for creating a list with detailed information on any menu items. If necessary, the admin can also find data on bills and orders.
The Fantasty app is customizable, letting customers add their menu and menu images. In addition, they can request to change the app color to their corporate one.
Result
Accurate and powerful restaurant management tool
Automized process of taking and managing orders
UI/UX design that fits both smartphone and tablet devices
A convenient admin panel for efficient process management
A customizable app allowing to tailor the Menu section